I watched the formation ahead now: the big-bellied ships with the huge pendulous engine nacelles and the arrogant, authoritative tails. Behind them all were the great names of the past year: Naples, Rome, Salerno, Messina, Bizerte, Sousse, Sfax . . . the history-making names. Now this was what all the other raids were for, all the other hours and the training. We were coming in.
Then, far ahead, and so pale it was almost indistinguishable, I saw Florence at the foot of the green hills. I had noticed before that Italian towns, on the ground brown and drab, seemed white in the distance. Seen from this height, Florence was so pale it was almost luminous beneath the darker hills.
I pressed my microphone button. "There it is, Ack."
The interphone buzzed alive: "It's beautiful. Look how white it is." Ack was watching it, too.
From far back, and still fuzzy on the live interphone, I could hear Just saying, "Jeez, it's a big city! Must be a lotta people there."
Florence swam nearer through the slow Plexiglas, and now the whole intricate sprawl of it was clear. I saw the sharp line of houses and buildings along the Arno. I could not see the stone wall I remembered from almost five years before, but I could see where it was.
Then, very clear, and whiter than all the rest of the city, I could see the little Baptistery, San Giovanni Battista, a hundred feet across from the Cathedral. I began to search for the street with the pension (boardinghouse) I had stayed in, but ahead the formation was making a beautiful wide turn to the southeast, and we were preparing to come around onto our axis of attack. Now the whole course of the Arno was clear, and I could see water in the river bed.
I pressed the microphone button. "There she is. Take a good look at her in this turn. That white thing is where the Cathedral is. Just, see if you see any trucks or anything." I watched the city again.
We completed the slow, deliberate turn and came into our axis of attack.
"On course," I called to Ack over the interphone. Instantly, after we came upon our course for the run, the formation began to tighten up, and the wingmen moved in closer. I looked around and saw the other bombardiers in their Plexiglas noses, so close they seemed part of our own ship. They were bent intently forward, too. What formation flyers, I thought. You couldn't find formation like that anywhere else in the world.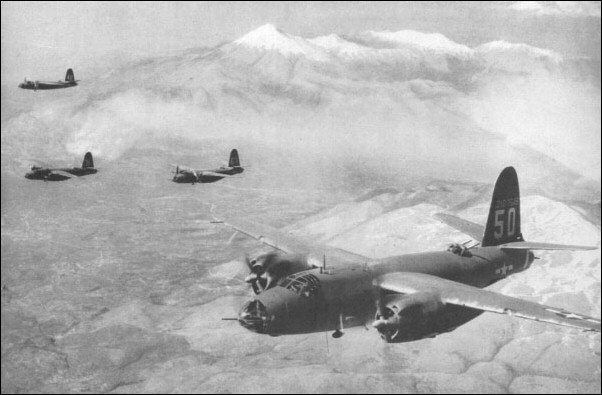 B-26 Marauders Racing over Mountains in Italy Call to Mind Hannibal's Elephants Crossing the Alps 22 Centuries Ago
The target was not yet clearly visible, but I could see a brown stretch where it would be. The tight, intent formation, long and uneasy, weaved slightly once and straightened out. Ahead the bomb bays of the higher ships slowly craned open. (Continued)