GREATER LOVE HATH NO MAN
A B-26 crewman fights to save his friend
| | |
| --- | --- |
| | To the lower left of the Star and Bar on the lead aircraft's aft fuselage is the left waist window from which Moscovis and McCluskey escaped from five-zero. The window is 16 inches high and 20 inches wide, and they wore Mae Wests and chest chutes. |

"Lose 200 feet," Hawthorne commanded on the intercom. "Lose 300; lose another 100." At 12,400 feet, Hawthorne called, "Good; hold it. I got it pegged." The formation was flying the last part of the bomb run straight and level and as sitting ducks. The flak was as briefed: heavy, intense and accurate, and there was an acrid smell as they flew through the roiling black smoke from the 88mm and 105mm bursts. The seconds dragged, but then the big plane shuddered as the two huge bombs dropped out of the bomb bay. "Bombs away! Let's get the hell out of here," Hawthorne shouted, and Albury broke hard right.

"There was heavy flak on the bomb run," Moscovis recalled. "You could feel the bombs go out, and I thought we were safe. But just as we started our break, we got two direct hits."

Lt. Ladd Horn was piloting the plane on Five-Zero's left wing. "There was a cluster of four 88mm shells," Ladd says, "and two of them straddled their plane. One burst sheared their right engine completely off its mounting, and the second one blew a large hole in the left side of their fuselage. They held steady for just a moment and then rolled upside-down and began to spin." Cameraman Sgt. Peter Holmes was in the Marauder on Five-Zero's right wing and was aiming a hand-held camera down through the waist window to record the bomb strike when the stricken aircraft flew right into the frame. It was the first aerial photo he had ever taken.

"The blast knocked me out of the turret, and when I found my chest pack, some of the silk was hanging out and the ripcord had been shot off, but I snapped it on," Moscovis says. By now, the plane was spinning down out of control and was completely engulfed by the billowing flames. The fuselage skin was too hot to touch.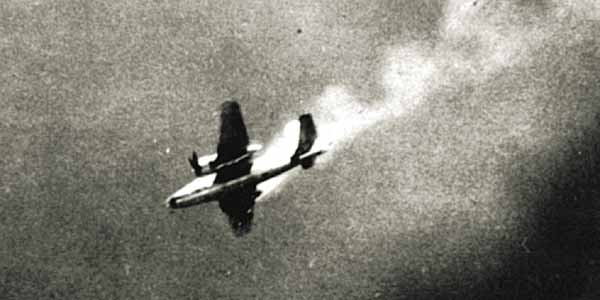 Sgt. Peter Holmes took a second picture of the doomed aircraft as it spun down, now enveloped in flames from nose to tail.

"I started crawling back toward the tail to the waist window, when I saw McCluskey pinned under a bunch of flak suits. They were really heavy because of the G-forces, but I dragged the suits off him and got him to the waist window.
| | |
| --- | --- |
| | Lt. Edgar Hawthorne in bombardier training. He was the bombardier on Flossie's Fury on that fateful August Sunday. |
There was no gun mounted in the left window, and I helped him go out, head first. We were really low by then, and I knew I had to get out. I squeezed out the waist window, and that's the last thing I remember." As he floated down, McCluskey watched the Marauder below him and saw it hit and explode. He did not see another chute, and he was sure his friend George had been killed along with the rest of the crew.


| | |
| --- | --- |
| A happy Robert McCluskey during his gunnery-training days. After he bailed out over Toulon, the free French hid him in a morgue. For three days he lay naked on a slab, covered with a sheet and surrounded by dead German soldiers. | |
German soldiers still occupied Toulon, and they found what appeared to be the lifeless body of Sgt. George Moscovis. They stripped him of his dog tags, his watch, an escape kit with $40 in francs and the Bible he had carried on every mission. Then they ordered some French civilians to get rid of the body. The Frenchmen carried Moscovis to a small shed and laid him on a table, naked and covered only by a towel; they began to make a crude casket out of ammunition boxes, and by the time they had finished, it was almost dark. As they eased the body from the table into the coffin, George Moscovis regained consciousness. "They all started to kiss me," Moscovis says. "Then they all began to cry. Then, dammed, if I didn't cry, too."

Germans were still everywhere in the city, and for several days the French Underground risked their lives to protect Moscovis and get him medical help. "About four days later, these free French had got me to a hospital, and they said they had a surprise for me," Moscovis recalls. "Into my room walked Bob McCluskey. I couldn't believe it and neither could he. We both cried like babies; each of us had thought the other was dead."

Allied troops took over Toulon soon afterward, and Moscovis was flown to a hospital in Naples. In addition to the broken ankle the French had put in a cast, he had broken his right elbow and injured his back. He walked with a cane, but he still managed to visit his buddies in the 95th on Sardinia before he was shipped back to the States. "They gave me an MIA box with all my personal belongings. I had been listed as missing in action, and they were going to send the box to my parents."


| | |
| --- | --- |
| | Sgt. Moscovis back with his squadron on Sardinia. The box contains all his personal belongings that were about to be shipped to his parents. Note the cane and the cast on his left ankle. |
The reluctant Moscovis was sent back to the States, to a hospital in Miami. In March 1945, after extensive medical treatment and rehab, he was given his honorable discharge. During his combat tour, he had earned the Air Medal with seven Oak Leaf Clusters, the Purple Heart and the Distinguished Flying Cross. But more than that, he had earned the admiration and respect of his peers for putting a friend's survival ahead of his own; he had made sure that his friend got out of a spinning, burning plane that was seconds from crashing. "Greater love hath no man than this, that a man lay down his life for his friends." Young T/Sgt. George Moscovis proved he was willing to make that sacrifice.

Military records show that the day after Five-Zero's loss, the 17th Group Exec. Maj. Verl Oberlin submitted a confidential "Disappearance of Missing Personnel" report on each crew member. The report on T/Sgt. Moscovis read in part, "Only one parachute was seen to open as the plane went down—most likely, the waist gunner Sgt. Robert McCluskey. The crash was probably fatal to the other crew members."

And the official 95th Squadron records for the August 20 mission read: "One A/C was hit by flak immediately after bomb run. Flak hit between right engine and fuselage and A/C went into a sharp spin, fell on its back and exploded. One chute was observed to open." How did the miracle happen? If his parachute never opened, how did George Moscovis survive? "I'll never know for sure," Moscovis says. "Maybe I hit on a sloped roof. Maybe a tree broke my fall."

Or maybe God was watching and rewarded his bravery.
| | | | | |
| --- | --- | --- | --- | --- |
| | | The author and his dog, Short-timer. At 21, he was C.O. of the 441st Bomb Squadron in the 320th Bomb Group—probably the youngest bomber squadron commander in the ETO. He flew 71 missions, 26 as group or squadron lead or mission commander. | | Editors' note: This article was originally published in the December 2002 issue of Flight Journal. It is presented here by permission from the author, Charles O'Mahony and the folks at Flight Joural. Back issues are available. Click on the image to link to the Flight Journal website where this issue can be purchased. |
---

---
Copyright(c) 2003 320th History Preservation. All rights reserved.