This is the end of Volume 1 of the Base Life photographs
Volume 2 is currently being constructed.
Please check back since there will be multiple volumes eventually added.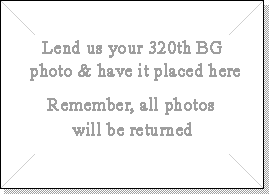 If you have any 320th photographs that you would be willing to lend, please send to the following addres:

Dr. Franz Reisdorf
157 Maria Avenue
St. Paul, MN 55106


Remember - All original photographs will be returned
---
Back to Base Life Photo Previews


---
Copyright(c) 2003 320th History Preservation. All rights reserved.