When you get home
Remember us and say
We gave all of our tomorrows
For your today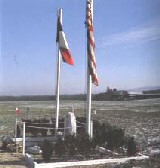 The Memorial at Fontain
Fontain, a village south of Besanšon, is where My Gal II crashed on her first mission, killing all six crew members. The villagers have held a memorial service every year since 1945.
Killed in Action
Valentino Barrisano

Henry H. Bell

Ed L. Berry

Egbert C. Buckout

Richard L. Clod

Algie Daniels

Norman H. Derau

George E. Dillon

Frank I. Folson

Henry Goodman

H. P. Gothanmer

Herbert S. Hall

Lawrence J. Hayward

William L. Headrick

Ernest Hughes

Arden E. Hull

Robert E. Kaberle

Harvey Keene

Frank Kegeie

Larry Lynch

George H. McBride

Arthur W. Nowakowski

Luther Ritter

William A. Robertson

Fred B. Schott

Edwin J. Sieler

William C. Snell

John Stenholtz

M. C. Sullivan

John D. Towns

R. H. Walcott

Robert V. Wilson

Gordon L. Wrader

Frank Wright
Missing Air Crew Reports

The Missing Air Crew Report (MACR) was authorized in May 1943 to record the facts of the last known circumstances regarding missing air crews. The report was prepared by the unit shortly after the aircraft loss, usually within 48 hours, and then it was sent on to Headquarters, AAF.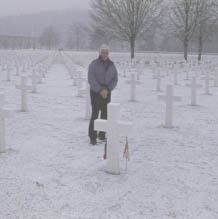 Memorial Cemetery in Epinal, France
Charles O'Mahony paying his repsects
Alphabetical Listing of Bretheren Who Have Since Left Us

---
Copyright(c) 2003 320th History Preservation. All rights reserved.