The lowest point in human relationship during my months as a Kriege had to do with four Air Force Officers, gentlemen and officers by act of Congress.
Food was the all pervading thought and subject of discussion. During my eight months as a POW, only twice did I receive one fourth of a Red Cross food package. Red Cross parcels were practically non-existent in Stalag 9C. A persistent rumor had them being sold by the Swiss from the freight cars in Switzerland. Whatever the reason, our diet consisted largely of what the Germans could provide.
Without variation, our daily rations consisted of a cup of weak tea and a slice of black bread for breakfast. Lunch was a cup of cabbage soup, with no visible cabbage and a slice of black bread. Dinner was a small boiled potato, sometimes cabbage soup and a slice of bread. Once a week we received a one inch cube of boiled horse meat.
I was still at the hospital in Meiningen, German when this incident occurred with the four Air Force officers.
The patients were divided into groups of five for the purpose of obtaining rations. Only one person of each group of five was permitted to go to the kitchen and obtain the food for the group. When our group of five was formed, I was asked by the other four to get, distribute, and supervise the group rations. At the time I accepted, I called the group together and explained that the conflict could not last much longer, and with the disruption of German supply lines, and their natural disinclination to continue to feed us, we should begin to stockpile bread and some ersatz margarine in the event that our food supplies were cut off. All agreed. The bread and margarine would last indefinitely without spoiling.
During the three months I acted as rations officer for our five man group, I managed to accumulate five loaves of bread and a quantity of margarine. One morning the cast was removed from my arm and I was advised that I would leave the convalescent hospital at Meiningen and be sent to a POW camp at Nurnberg.
That evening at dinner I told the group of my departure, and told them that I doubted I would be issued rations for the trip to Nurnberg, and I did not know what the conditions would be in the new camp. Having saved five loaves of bread and a good supply of margarine, one fifth of what I stored was mine, and that I would take one loaf of bread and some margarine with me. The four Air Force officers made no comment. I left the barracks to visit some friends and tell them good-bye. When I returned, the four were seated at the table and one, obviously the spokesman, in a hesitant manner told me the group felt that my one fifth share belonged to the group, and they did not want me to take the loaf as they would need it if supplies failed.
Conclusion
Most of the men I met during my eight months of Kreige life were unselfish and making the best of a bad situation. Especially were the English to be admired, many of them in camp since Dunkirk, still cheerful, optimistic and helpful. These anecdotes of human behavior under abnormal circumstances were in sharp focus as much of the time our lives were apathetic and boring.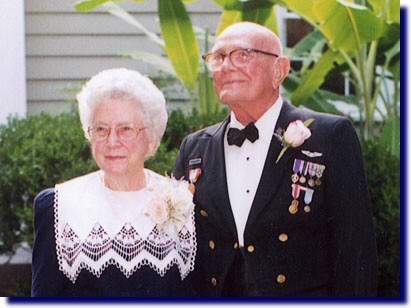 Joe and Mae Armstrong