Pete Wright's WWII Photo Page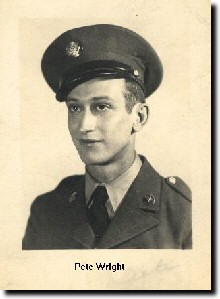 Tech. Sgt. Walter "Pete" Wright
442 Squadron, 320th Bomb Group, 9th Air Force.
U.S. ARMY AIR CORPS, Turret Gunner on a Martin B-26 Marauder (Medium Bomber)
This web page is a collection of photographs that my great Uncle Pete Wright sent to me after we began an e-mail dialog about his World War II experiences. He mailed his WWII photos to me, which I scanned and returned to him. We followed up with a series of e-mails wherein he provided commentary to go along with quite few of his photos. Sadly, he passed away before we finished our project. However, we worked on the site live, so he saw our effort in progressand was well pleased to share his photos and experiences.
Uncle Pete is my great Uncle, the brother of my maternal grandmother, Ruth Wright Livaditis, of Atlanta Georgia.