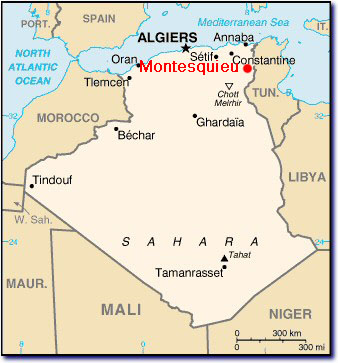 By April 18th the men of the 320th were settling into tents at Montesquieu. The field was beautiful: cut through a green wheat field on a plateau high in the Atlas Mountains among rolling hills and acres of poppies. This was the most advanced air base; ground fighting was going on just 75 miles away as the Allied Armies penned Axis forces into the northeast corner of Tunisia and closed in on Tunis and Bizerte.
The men expected German air raids so they dug in and prepared to defend themselves. Anti-aircraft guns were in place and gunners were on the alert.
Departments and Sections got organized. The 304th Service Squadron, which was to be with the Group for the rest of the war, joined them.
P-40s of the 325th Fighter Group, on the other side of the field, would escort the Marauders on many coming missions.
The last familiarization flights were flown. Col. Fordyce held final instructional meetings with the air crews.
The 320th was ordered to fly its first bombing mission of the war April 22, 1943. Eighteen of its B-26s, escorted by 325th Warhawks, were to hit enemy shipping in Carloforte Harbor Port, Sardinia. Nearly everyone in the Group lined the runway to watch their Marauders take off. Capt. Ted Dorman of the 444th piloted the lead ship "Miss Fortune" with Col. Fordyce aboard as observer. Each Squadron had B-26s on this initial raid. There was light flak, no fighters, bombing results were good, and all Marauders returned safely.
During the next few weeks the Group put up missions daily as Allied ground forces tightened their ring around Tunis. The 320th concentrated on interdicting the beaten enemy trying to escape by sea. Targets on Sardinia drew most of its attention.
American and British soldiers sprang their final assault on Tunis and the city was taken May 7th. All German and Italian troops remaining in Tunisia surrendered May 13th, ending the North African Campaign.
Now the 320th joined in pounding the Italian Island of Pantelleria, stepping stone to Sicily, next objective for the Allies.
On May 23rd taking off from Montesquieu the Marauder piloted by Col. Fordyce crashed, exploded, and burned. All aboard were killed in this tragic accident which took the life of a superb Commander, so respected and so well liked by his men. Lt. Col. Karl E. Baumeister from the 17th was named CO.
June 1st, as the 319th resumed action, the three Marauder groups were transferred from the 47th Bomb Wing to the newly-formed 2686th, Brig. Gen. Robert M. Webster, CO. Pantelleria gave up the 11th marking the first time air assault alone had forced such a capitulation. Now the Group began missions preparing the way for the Allied invasion of Sicily. Their B-26s bombed the Island's airfields day after day.
To cut the distance to targets, the B-26 units were ordered to move a hundred miles northeast. The 320th men loaded up and pulled out by convoy for the airfield at Massicault, 14 miles southeast of Tunis.[Go to the next base: Massicault, Algeria]
-Text authored by Victor C. Tannehill, Saga of the 320th