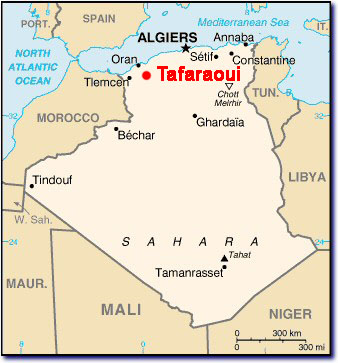 When the 320th's Ground Echelon arrived at Tafaraoui November 22, 1942, they found it had been heavily bombed and shelled during the invasion. The men had to pitch their pup tents in a sea of mud caused by the steady rain. Thanksgiving came and went...but the downpour continued into December.
To make room for another group staging through, on December 19th the ground men packed up and moved in freight cars 75 miles east to the field at Relizane.
By January 2, 1943, the last of the Flight Echelon Marauders had flown in to Tafaraoui. The 320th had brought fifty-nine B-26s safely across, losing just one en route. Outstanding, considering the losses the 319th and 17th had suffered crossing.
The 319th had passed through Tafaraoui shortly after the invasion. Since its first mission November 28th it had suffered heavy losses on low-level attacks supporting the Allied "race for Tunis". The 17th had also moved through to join the 319th at Telergma and had gone into combat December 30th.
Though the 320th's fliers expected to be rushed into combat with the other two B-26 groups, they were sent to school instead. Crews and aircraft shifted over to nearby La Senia field, where the Ground Echelon joined them January 8th.
Ground classes soon began there at Twelfth Air Force Combat School. The airmen were taught medium-level bombardment tactics.
By the end of January School was finished and the 320th moved back to Tafaraoui. Now the field was an even worse mud hole. The weather was miserable: wind and rain.
Squadron Commanders pushed hard to get their men ready for action. Ground and flight training continued for all. Takeoff and landing accidents happened...the flyers could never take the B-26 for granted.
Starting February 9th, 320th planes--bomb-bay racks modified to carry depth charges--began flying daily antisubmarine patrols looking for the Axis U-boats that were preying on Allied shipping around Oran. On the 12th, the Group scored its first victory of the war, sinking a sub.
The 319th was ordered withdrawn from combat early in February and pulled back to rest and reequip, leaving the 17th the sole B-26 group in action. German Panzers struck through Faid Pass on the 13th and threatened Algeria. The concerned 320th men thought they might be thrust into the battle, but by the 22nd counterattacking Americans had beaten Rommel's Afrika Korps back at Kasserine.
Patrolling, practice combat flights and ground training classes went on into March. The men endured the mud, worked on their planes, and waited impatiently. British Royal Navy Swordfish took over the anti-sub patrol from the Group the 10th. Being relieved was seen as a good sign by the men...maybe now they were going into action. On the 15th Lt. Col. John R. Fordyce took command of the 320th, succeeding Col. Garrison who had been injured in a jeep accident.
With April came the news they had been waiting for...move east 700 miles to a forward airfield at Montesquieu, Algeria. On the 7th a long convoy of 320th vehicles pulled out. Crews flew their Marauders forward. Other personnel, along with equipment and supplies, were airlifted by C-47s; the first time the AAF had flown a group into a combat zone.[Go to the next base: Montesquieu, Algeria]
-Text authored by Victor C. Tannehill, Saga of the 320th